Contact:Mrs.Lillian
Phone :18053563966
86-0535-3942505
Fax :86-0535-3942507
E-mail :xingjian@ytxingjian.cn
Website:www.ytxingjian.com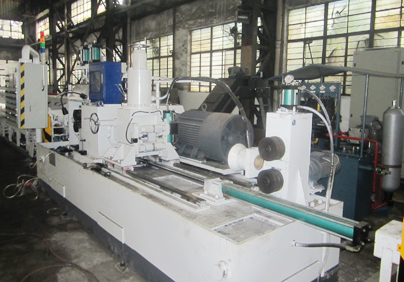 XF-WXC80S centerless
时间:2014-04-19 16:17 点击次数:
---
XF-WXC80S centerless Polishing machine unit is self-developed and optimized upgrading products, referencing to the advantages of similar foreign and domestic products and combining with the production characteristics of the domestic enterprises.
The features of this machine are: strong practicability, stable processing, fast speed, high efficiency, good surface quality. Due to installation of oil gas lubricating device, the bearing life can be extended by many times, the spindle gearbox is of two-step of variable transmission, compared with the original synchronous belt structure, is more stable and reliable, easy to operate and wider range .of adaptive speed and processing .the tool can be adjusted online. The closed-loop online fully automatic feed path control can be realized after adding the detection point. Clamping vehicles with hydraulic proportional valve drive is directly controlled by the encoder signal. The whole line is of high automaticity, equipped with two sets of automatic and manual control system, which can be use by interlocking.
Main technical characteristics:
1.the whole operation is controlled by two systems, the touch screen and button station, main position with PLC control, multi-point automatic monitoring and the high degree of automation.
2. Feed and discharge device designed with self-aligning mechanism, adjusting automatically and conveniently when the diameter change of the processed materials, and to ensure the concentricity with the spindle.
3. front guide clamping device is designed with cam two-rollers clamping structure, it has the stability characteristics of the sliding brush type front guide and not scratching material, high positioning accuracy and east adjustment.
4. Spindle equipped with oil gas lubrication device, is new generation of type products, processing efficiency and the use durability are both significantly improved.
5. Spindle speed designed by combination of two-step gear shifting and frequency conversion, greatly increasing adaptive range of work.
6. Middle guide clamping device designed with combination of elastic clamping and rigid clamping to meet the different requirements of different users for the processed material and accuracy, and ease of use.
7. Hydraulic clamping device is uses a special hydraulic circuit design, with features of long holding time, saving power and energy, good self-locking capability, exact position, tight press, and easy adjustment and operation.
8. Long tool wiper distance, smooth processing, and high moving speed.
9. Feed wheel has large adaptive range, and have not to be changed frequently, high work efficiency.
10. Tool can make feed compensation without stop high, and with high machining accuracy.
11. Discharge is transmitted by clamping vehicle, controlled by oil cylinder promotional valve, moving steadily with high clamping strength, not easy to slide.
The unit length is20 meters, covering an area of 18.5 m X6.1 m. Equipment is designed and manufactured strictly in accordance with the relevant standards and technology agreements and other documents. Warranty is 12 months.
Main technical characteristics:
1. Material: titanium, stainless steel (304,306,630), bearing steel, spring steel, alloy tool steel, carbon tool steel, high-speed tool steel, high quality carbon steel, structural alloy steel, non-quenched and tempered steel, easily cutting steel, valve steel, gear steel, die steel, and various non-ferrous metals, pipes and so on.
2. Equipment rack bearing: ≤ 5000Kg
3. Blank sizes:
Diameter range: Φ16.5-Φ85
Straightness: 2 ‰
Length: 2M-6M (it can be lengthened as needed)
4. Finished Product
Dimensional accuracy: ≤h10
Surface roughness Ra: ≤3.2
Ovality: half of the tolerance
5. The technical parameters:
Cutting depth: 0.25-2.5mm
Cutter speed (CVT): 1600r/min
Feed rate (CVT) :0-20m / min.
Power of main motor: 90KW
Feed and discharge motor power: 4KW 2sets
6. Energy and the medium parameters
Voltage: 3X380V ± 10%
Frequency: 50HZ ± 2%
Installed capacity: 120KW
Air flow: 0.5m3/minCoolant flow: 200L/min
7. After-sales service: For equipment problems, respond within 24 hours after receiving the notice, arrive at the site within 72 hours for maintenance, (China, mainland China); for situation being unable to arrive at the site (e.g. abroad), the technical support will be given timely; the suppler ensure to train operators for buyers so that they can operate and use machine tools.
详细参数请点击下载:矫直机参数