Contact:Mrs.Lillian
Phone :18053563966
86-0535-3942505
Fax :86-0535-3942507
E-mail :xingjian@ytxingjian.cn
Website:www.ytxingjian.com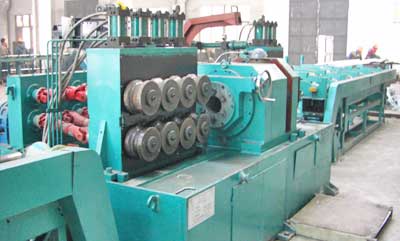 XF-WXC165C type of centerless lathe
时间:2011-07-18 15:51 点击次数:
---
Features of XF-WXC165C type of centerless lathe: better practical applicability, high cost performance, stable processing speed, high efficiency, good surface quality.
The whole line is controlled by the semi-automatic button. Tool adjustment is uniformly self-centering. Feeding and discharge dev ice designed with self-aligning can automatically adjust as the material change in diameter. The guide device is idler wheel clamping mechanism to avoid the scratch of the material effectively. The middle and rear guide clamping device is designed as the combination structure of the elastic clamping and rigid clamping in order to meet the different requirements of different users for the processed material, accuracy and easy operation. Hydraulic clamping device uses a special hydraulic circuit design, having features of long holding time, saving power, self-locking capabilities, accurate location, reliable compression, and easy adjustment and operation. Tool wiper has long distance, the processing surface is bright and clean, the speed of feed material is high. Feed wheel range is large and highly efficient without the need for changing wheels frequently. Due to installation of the oil-gas lubricating device, the bearing life is extended by 3-6 times, material moving max linear speed up to 4m/min. Universal shaftdrive of auxiliary box ismore reliable. The unit length is16 meters, covering an area of 16m X6 m. Equipment is designed and manufactured strictly in accordance with the relevant standards and technology agreements and other documents. Warranty is 12 months.
Main technical characteristics:
1. Material: titanium, stainless steel (304,306,630), bearing steel, spring steel, alloy tool steel, carbon tool steel, high-speed tool steel, high quality carbon steel, structural alloy steel, non-quenched and tempered steel, easily cutting steel, valve steel, gear steel, die steel, and various non-ferrous metals, pipes and so on.
2. Equipment rack bearing: ≤ 5000Kg
3. Blank sizes:
Diameter range: Φ65-Φ168
Straightness: 2 ‰
Length: 2.5M-10M (it can be lengthened as needed)
4. Finished Product
Diameter range: Φ60-of Φ165
Dimensional accuracy: ≤ h9~ h10
Surface roughness Ra: ≤ 6.3 ~ 3.2
Ovality: half of the tolerance
5. The technical parameters:
Cutting depth: 0.25-2.5mm
Cutter speed (CVT): 110~440r/min
Feed rate (CVT) :0.4~4m / min.
Power of main motor: 75Kw6
Feed and discharge motor power: 4KW 2sets
6. Energy and the medium parameters
Voltage: 3X380V ± 10%
Frequency: 50HZ ± 2%
Installed capacity: 90KW
Air flow: 1m3/min
Coolant flow: 200L/min
7. After-sales service: For equipment problems, respond within 24 hours after receiving the notice, arrive at the site within 72 hours for maintenance, (China, mainland China); for situation being unable to arrive at the site (e.g. abroad), the technical support will be given timely; the suppler ensure to train operators for buyers so that they can operate and use machine tools.
详细参数请点击下载:无心车床参数