Contact:Mrs.Lillian
Phone :18053563966
86-0535-3942505
Fax :86-0535-3942507
E-mail :xingjian@ytxingjian.cn
Website:www.ytxingjian.com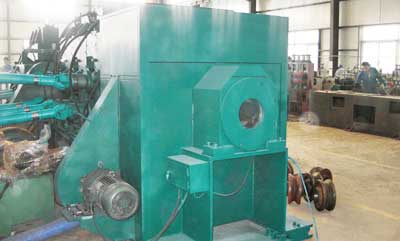 Planetary abrasive belt grinding YM200
时间:2011-07-18 11:43
---
The belt sander produced by our company can be used for grinding and polishing of stainless steel, aluminum, steel and other metal material. The machine is characterized by machined materials with clear edge, surface roughness, high efficiency, in meantime to avoid the impeller large grinding loss . The entire process can be automated with less dust and environmental production. It is our patent product.
YM series of belt sander is to meet the requirement of further improving the online polished degree of surface roughness machined by Centerless Polishing machine, the planetary abrasive belt grinder is the company's targeted design. The belt revolves around the material while in high-speed rotation to achieve the purpose of polishing online. It can also be used for bars, steel pipe surface grinding and polishing. This machine has features of high processing efficiency, good surface quality, and can realize automatic control.
MSA series of abrasive belt grinder is used to grind and polish profile (square steel, six angle) surface. This machine is applied with multi-head assembly design that can grind different surface structure, and when belt grinding, the material is fed axially , such as the use of multi-head assembly, by installing the different particle size of the abrasive belt, can be realized from the coarse grinding, the semi-fine grinding, fine grinding to the polishing continuous process.
MS series of abrasive belt centerless grinder is a special equipment for grinding and polishing bar, steel pipe's encircle. The machine uses design principles of a combination of centerless grinding and abrasive belt grinding and wet grinding methods, improving the grinding and the working environment. Such as using multi-head assemble and install a different particle size of the abrasive belt to realize continuous processing from rough, semi-fine, fine grinding to polishing.
Details please click to download:belt grinder group parameters