Contact:Mrs.Lillian
Phone :18053563966
86-0535-3942505
Fax :86-0535-3942507
E-mail :xingjian@ytxingjian.cn
Website:www.ytxingjian.com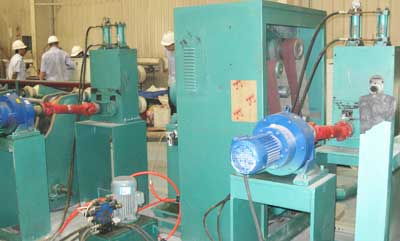 Planetary abrasive belt grinding YM80SA
时间:2011-07-20 11:41
---
YM80S abrasive belt grinding unit is planetary abrasive belt grinding machine designed for polishing needs that require higher material surface roughness . Its main technical parameters and functions are as follows:
The machine spindle is hollow structure, the front-end is installed with belt plate, the belt plate have two symmetrically arranged electric motors which drive two pulleys respectively installed with abrasive belt. The entire mechanism revolves driven by main motor and the belt rotates in a high speed reaching the purpose of average grinding of round bar diameter . The material being processed makes axial movement driven by pinch device and the auxiliary wheel device and goes through the abrasive belt grinding spindle to complete the grinding. Under the control of detection point, two high-speed rotating belt are controlled to open and close by the two cylinders to achieve the purpose of different feed requirements. For processing materials of different diameters, positioning device on belt plate is designed which can easily adjust the grinding intensity.
The machine is characterized by: PLC control high degree automation, high practicality, stable processing, fast speed, high efficiency, good surface quality.
Main technical characteristics:
1、Material: titanium, stainless steel, bearing steel, spring steel, alloy tool steel, carbon tool steel, high-speed tool steel, high quality carbon steel, structural alloy steel, non-quenched and tempered steel, easily cutting steel, valve steel, gear steel, die steel, and various non-ferrous metals, pipes and so on.
2、Equipment rack bearing: ≤3000Kg
3、Blank sizes:
Diameter range:Φ30-Φ80
Diameter deviation:≤±0.4mm
Straightness: ≤2‰
Surface roughness Ra:≤12.5μm
Length:2M-4M
4、Finished Product
Diameter range: Φ30-Φ80
Grinding amount : 0-50μm
Surface roughness Ra:≤1.6μm
Straightness:≤2‰
5、The technical parameters:
Belt speed (CVT):20M/S
Reel speed (CVT)::58r/min
Feed rate (CVT) :≤1.5m/min
Power of main motor:4kW
Feed motor power: 3KW 2sets
Sanding belt motor power: 3KW 2 SETS
Roller motor power: 1.5KW 2 SETS
Lift motor power: 1.5KW 2 SETS
Reel motor: 2.2KW
Dust Motor: 5.5KW 0.37KW
Hydraulic motor: 1.5KW
6、Energy and the medium parameters
Voltage: 3X380V±10%
Frequency:50HZ±2%
Installed capacity: 35KW
Air flow: 0.5m3/min
7、After sale service: there is a problem with the device, upon receiving the notification within 24 hours to respond within 72 hours to arrive at the scene, repair. ( domestic, China ); unable to arrive at the scene of the circumstances, ( such as foreign ) give timely technical support; to ensure the training required. The operator is able to correctly using and maintenance of machine tool.
Details please click to download:belt grinder group parameters