Contact:Mrs.Lillian
Phone :18053563966
86-0535-3942505
Fax :86-0535-3942507
E-mail :xingjian@ytxingjian.cn
Website:www.ytxingjian.com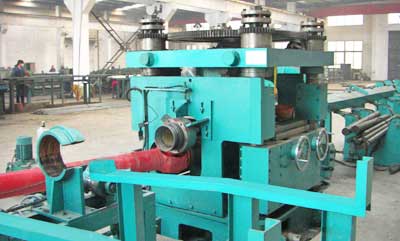 JY100-Two-Roller Barrling Machine
时间:2011-07-18 15:21 点击次数:
---
JY100-two-roll rolling barreling straightening machine, referring to the advantages of similar foreign products, combining with the production characteristics of the domestic enterprises, is self-developed new generation of product by simplify the optimization. The machine is mainly used for the precision straightening and burnishing of peeled or grinded metal bar, also be used in the straightening of black steel and precisely forged round steel. The barreling and straightening can be completed at one time,the efficiency of work is very high. The machine characteristics are: practical applicability, stable course of working, high speed, good surface quality and high precision machining. Maximum material speed is up to 30m/min.
Main technical characteristics:
1. Material: titanium, stainless steel (304,306,630), bearing steel, spring steel, alloy tool steel, carbon tool steel, high-speed tool steel, high quality carbon steel, structural alloy steel, non-quenched and tempered steel, easily cutting steel, valve steel, gear steel, die steel, and various non-ferrous metals, pipes and so on.
2. Equipment rack bearing: ≤ 5000Kg
3. Blank sizes:
Diameter range: Φ16-Φ100
Tensile Strengthσb(Mpa):1000N/mm2
Surface Hardness:HB320
Straightness: 2 ‰
Length: 2M-6M (it can be lengthened as needed)
4. Finished Product
Diameter range: Φ16-of Φ100
Dimensional accuracy: ≤ h9
Surface roughness Ra: ≤≤0.8μm
Straightness: ≤0.2mm/M
5. The technical parameters:
Number of Straightening Roll:2
Diameter of Straightening Roll:Φ360mm
Straightening Speed(CVT): 1-30m/min
Power of main motor: 55kW AC 2
Power of Lifting Motor: 3KWAC 1
6. Energy and the medium parameters
Voltage: 3X380V ± 10%
Frequency: 50HZ ± 2%
Installed capacity: 130KW
Oiling Coolant flow:10M 3/h
Air flow: 0.5m3/min
Air consumption: 20M 3/h
7. After-sales service: For equipment problems, respond within 24 hours after receiving the notice, arrive at the site within 72 hours for maintenance, (China, mainland China); for situation being unable to arrive at the site (e.g. abroad), the technical support will be given timely; the suppler ensure to train operators for buyers so that they can operate and use machine tools.